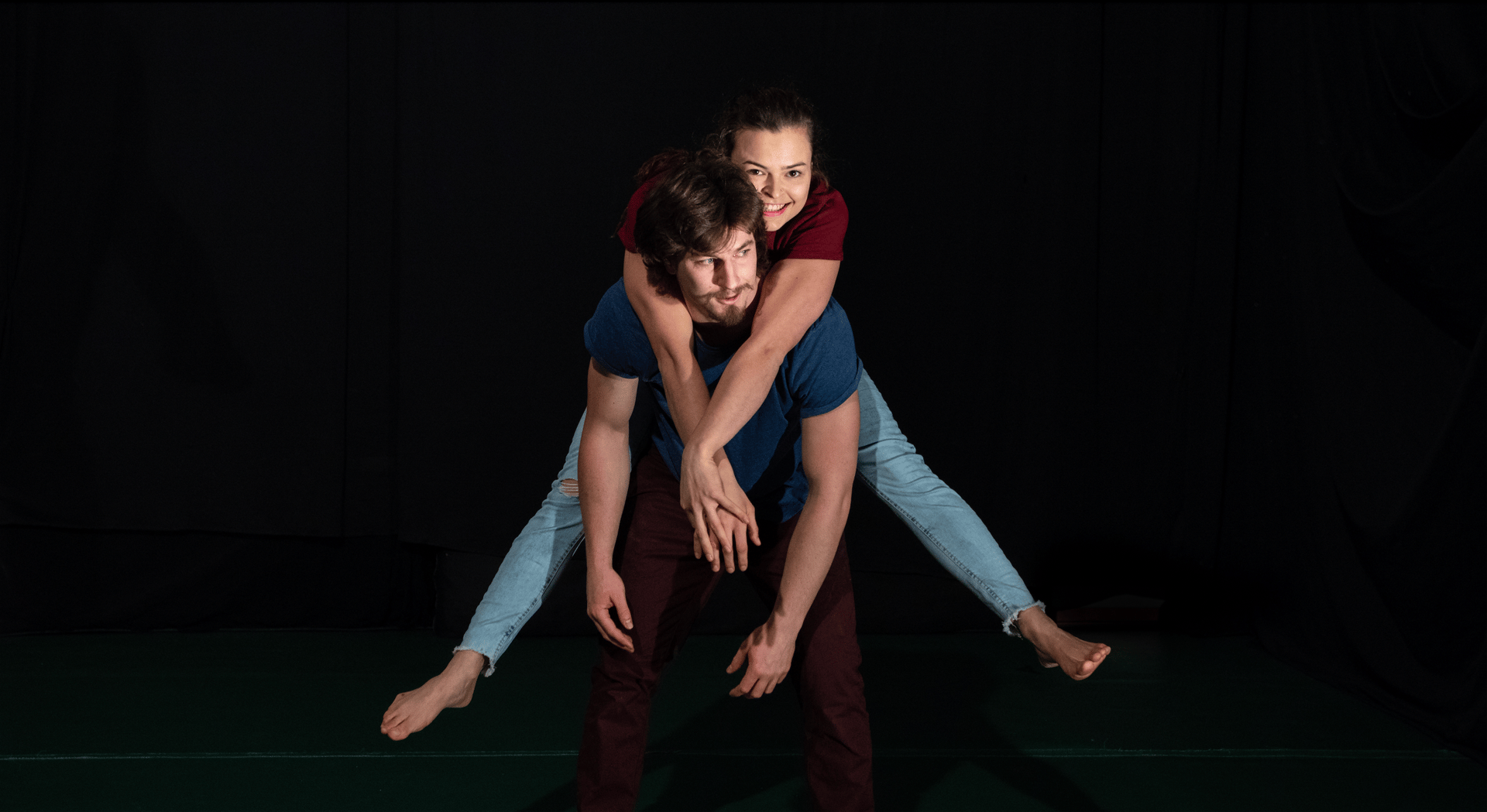 International Circus and Theater duo
Since 2016 we - Louise & Daniel - form the artist duo flexoncirc! We conquer the hearts of spectators around the world with our aerial, juggling, slack rope and partner acrobatics performances and are constantly thinking up and implementing new acrobatic performances.
As circus educational trainers, we teach at acrobatic and circus events worldwide. We share our experience from the International Circus and Theater School CAU in Granada, where we spent two years learning about acrobatics, theater, dance, aerials and hand to hand acrobatic from the best teachers.
"VIRCSAFT" SELECTED FOR "VIDOR FESZTIVÁL" IN BUDAPEST, HUNGARY, PRICE FOR BEST CREATION
VALLEY OF ARTS / MÜVESZETEK VÖLGYE IN TALIÁNDÖRÖGD, HUNGARY
NUIT DE LEGENDES IN LUXEMBOURG
BONDORÓ FESTIVAL IN KAPOLCS, HUNGARY
5 ELEMENTS BETHLEN TÉRI THEATER IN BUDAPEST, HUNGARY
FESTIVAL DE CIRQUE SOUS CHAPITEAU 15IÈME EDITION (ZALTIMBANQ' ZIRKUS) IN LUXEMBOURG
"VIRCSAFT" GOLEM THEATER IN BUDAPEST, HUNGARY
December 2021, January & February & April & May & June 2022
FREAK FUSION: RESTLESSLEGS AT TRAFO HOUSE IN BUDAPEST, HUNGARY
September 2020, February 2021, April & June 2022
"VIRCSAFT" GOLEM THEATER PREMIERE IN BUDAPEST, HUNGARY
KABÓCIÁDÉ FAMILY FESTIVAL IN VESZPRÉM, HUNGARY
UNFOLD/UNTOLD PREMIERE BETHLEN TÉRI THEATER IN BUDAPEST, HUNGARY
CSIKY GERGELY THEATER IN KAPOSVÁR, HUNGARY
CITY FESTIVAL SHOW IN BUDAPEST, HUNGARY
STREET PARADE PERFORMANCES IN MITZPE RAMON, ISRAEL
PERFORMANCE AT THE FAIRY TALE BAZAAR CHRISTMAS MARKET IN MUNICH, GERMANY
NEW YEAR'S EVE GALA AT THEATER HERFORD IN NEUSTADT, GERMANY
FINAL PERFORMANCES OF THE THEATER SCHOOL CAU AT THE THEATER ALHAMBRA IN GRANADA, SPAIN
PERFORMANCE AT THE PALÁCIO DE CONGRESOS IN GRANADA, SPAIN
PERFORMANCES AT THE CAU FESTIVAL IN GRANADA, SPAIN
PERFOMANCE AT THE AKADEMIEGALERIE IN MUNICH, GERMANY
PERFORMANCES WITH THE INTERNATIONAL ARTISTIC EXCHANGE, MOROCCO | GERMANY | FRANCE
NDR SUMMER TOUR IN HAMBURG, GERMANY
"These two performances prove that the circus, the new circus, is a form of expression that combines the ordinary and the extraordinary, and that it is able to carry fundamental human themes while at the same time inspiring wonder and dreaming, that it is in the most physical, bodily moments that the uniqueness and creative power of man becomes most evident." [Translated]
https://tanckritika.hu/kategoriak/kritika/1603-szoboszlai-annamaria-miert-cirkuszoljunk